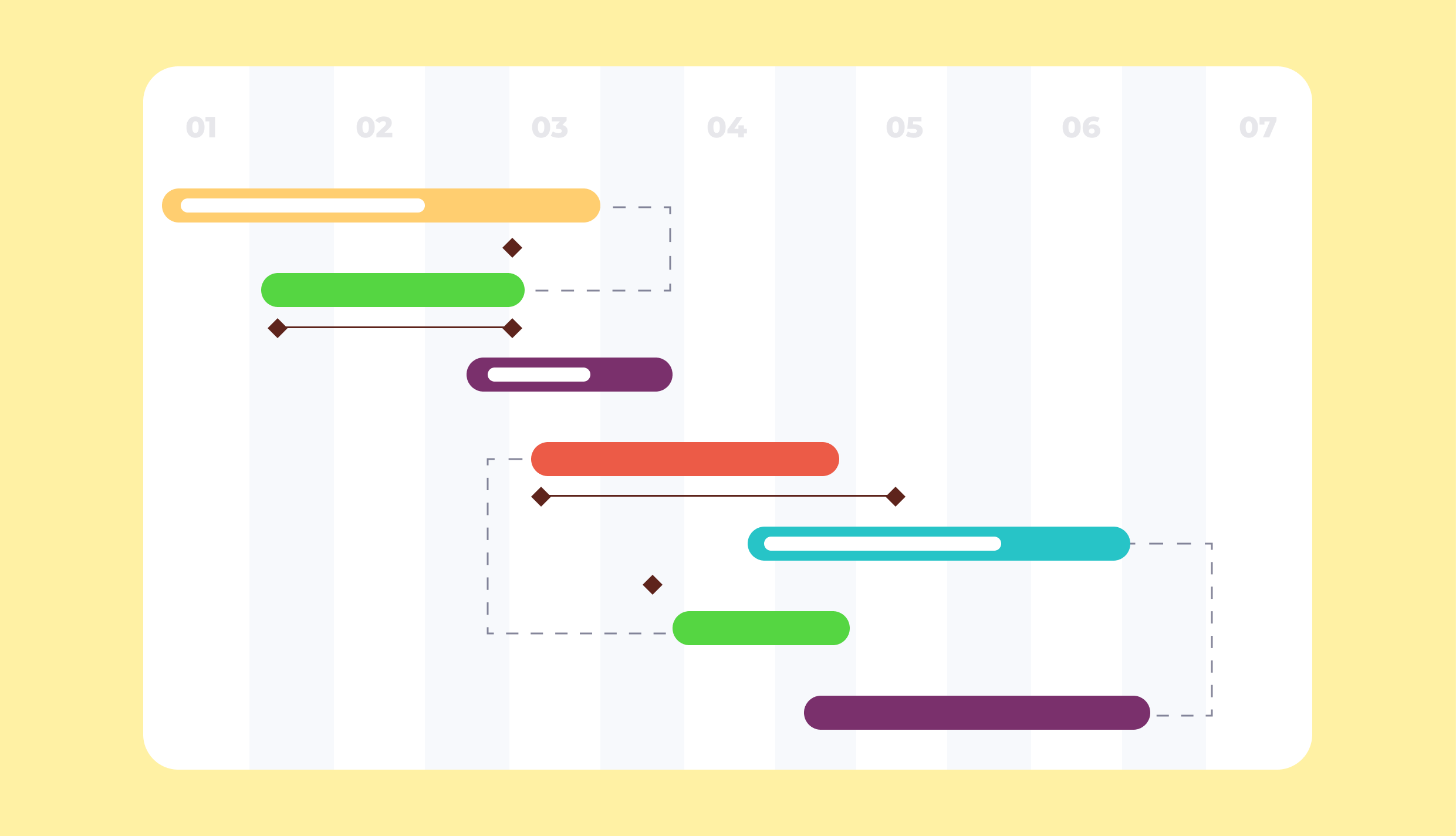 Every project has a beginning and an end, but the challenge lies in keeping it on track. The project life cycle helps professional services organizations plan for all stages of a project, so that progress can be effectively managed to help ensure successful delivery. It's an important tool for helping service firms achieve company objectives, whether those objectives are related to profitability, efficiency, customer satisfaction, or scaling fast.
But what does this mean for your project management processes? This article will give an overview of what is project life cycle, identify common risks that can derail projects in process, and provide effective risk management tactics and recommended tools to mitigate those risks.
What is Project Life Cycle and Why is it Important?
The project life cycle definition refers to a concept used in services organizations that describes the process of developing and delivering projects on time and on budget. There are five phases in a project life cycle process, including: initiation, planning and budgeting, executing, monitoring and controlling, and closing—a framework to help project teams get their work done effectively and efficiently.
Understanding project management life cycles is an important tool to help project teams by providing structure around the execution of each stage to ensure both client deliverables and employee needs are met:
Initiating Phase – The initiating phase in project management is when brainstorming takes place with colleagues or customers to come up with ideas, solutions, goals, and objectives to solve for a given problem.
Planning and Budgeting Phase – This project management process analyzes data such as costs, resource needs, and timing requirements to develop an understanding of what needs to be done. A plan is developed for completing required tasks.
Executing Phase – Once the project plan and details have been finalized, the next step is the project implementation phase to execute on the project tasks required to meet the project goals and objectives.
Monitoring and Controlling Phase – The fourth phase in the consulting project lifecycle involves assessing how well goals are being met at each stage and making changes as needed.
Closing Phase – This phase brings all stages together into one final wrap-up report on what was learned throughout the project process flow and what can be built into future project delivery.
The project life cycle is not an isolated process; it is a continuous loop that repeats itself over and over again. And throughout the series of stages, services organizations will not only discover opportunities, but also risks that pose a threat to a successful outcome.
---
Find out the key KPIs you should be tracking to keep your project life cycle on time and on budget. GET THE WHITE PAPER >> 
---
Critical Risks in Project Life Cycles: Identifying Common Pitfalls
Risks are any potential events that could cause a negative impact or delay a project. For a project to be successful, risks need to be identified early on so they can be planned for and mitigated as much as possible. Risk identification involves asking questions like:
What could go wrong?
How would we know if it did?
What are the consequences?
There are a variety of factors that can increase the probability of the occurrence of risks as well, including how large and/or complex a project is, how many stakeholders, goals and objectives are involved, how flexible the deadlines are, and how the technical environment might evolve.
So, what should you watch out for? To understand how to identify risks during the project life cycle, let's look at some common pitfalls that result from both internal and external risks in professional services:
Schedule delays: Schedule delays can occur if the project team is not able to meet their deadlines, or if there aren't enough resources available to complete the work within an acceptable deadline.
Cost-related risk: Insufficient funding to cover enough resources needed to complete the project successfully, or experiencing project budget overruns due to overtime hours worked or delays in delivering key milestones.
Poorly-defined scope: Closely related to cost risks, poorly defined scope happens when underdefined requirements and unclear definition of requirements aren't addressed. Without a clear and detailed plan for how to achieve project goals successfully, there's a greater risk for misunderstandings and miscommunication between stakeholders about what exactly the project entails and how to account for changes in scope or priority.
Scope creep: The uncontrolled growth in a project's goals without an increase in budget or time allocation.
Resource risks: Having a lack of qualified employees or experiencing employee attrition during a critical time in the project's life cycles.
Organizational risks: Issues with internal policies or procedures as well as quality assurance.
Technical risks: This can include hardware failures, software bugs or incompatibility issues.
Lack of communication: When team members and stakeholders aren't kept informed about what's happening with the project, it can lead to conflicting ideas, failure to complete certain tasks on time, and/or decisions made based on inaccurate information or assumptions about how things are going.
Lack of leadership: Poor leadership from those who are overseeing projects can lead to poor decision-making or insufficient direction to execute, course correct, and succeed.
External risk: Risk factors from outside the organization including competitors entering new markets, financial loss due to market fluctuations, or technological changes.
If not addressed properly, each of these risks can cause delays or even failure of a project—which is why the next important piece is understanding how to use risk management in project life cycles to prevent their occurrence.
How to Implement Risk Management in Project Life Cycles to Keep Crisis Mode Turned Off
Project managers are tasked with managing a team of resources, managing the scope of a project, and managing finances. This is in addition to keeping a sharp eye on deadlines and deliverables, and that's just scraping the surface. In order to do all of this effectively, it's critical to minimize or avoid risks that can negatively impact the life cycle of project management. Here are some tips for doing just that:
Identify risks early on so they can be mitigated by planning ahead.
Create a project contingency plan before beginning the project so that if something does go wrong, there's a clearly-outlined charter for how to handle the pitfall.
Make changes to processes or procedures to reduce uncertainty involved with certain tasks through research and development.
Run risk management meetings regularly with stakeholders and team members to identify these risks together and develop plans to mitigate them or avoid them altogether.
Set realistic goals that can be reasonably achieved within an acceptable timeframe or budget constraint.
Define how project progress and success will be measured and track it accordingly. Here are six helpful professional services KPIs.
Be prepared to increase workload or add resources to ensure deadlines can be met as efficiently as expected.
Define the problem before implementing a solution.
Create a list of all project stakeholders, including who will be affected by the project process and what their expectations are for the final service. This will help guide how much time and effort should be spent on each deliverable.
Estimate costs (time and expenses) in advance so they can be managed appropriately during the project life cycle.
Create a risk matrix to organize risks from low-level to high-level so they can be prioritized quickly if the need should arise.
Make sure to establish clear communication channels, conduct regular status meetings with your project team, and ask for any feedback or concerns they may have regarding project progress.
Keep stakeholders in the loop by regularly and clearly communicating project progress and issues with them.
Ensure resources are properly trained on how to perform their jobs, as well as that there are enough resources to complete it. Innovative approaches such as predictive capacity planning allows organizations to predict staffing needs by leveraging historical data.
Use a technology solution like professional services automation (PSA) software to measure progress, monitor deadlines and deliverables, and surface potential issues before it is too late.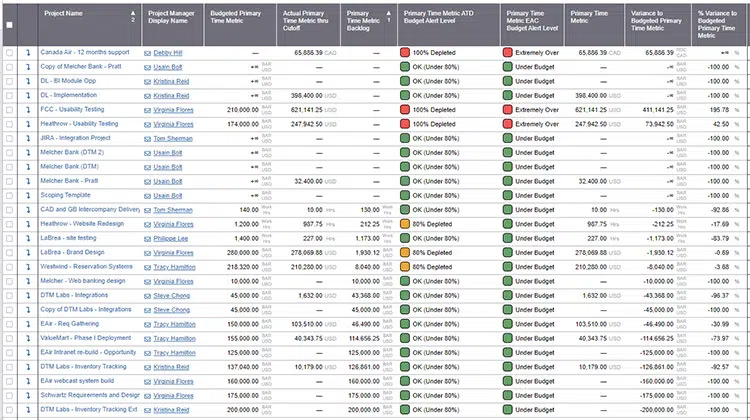 Projector by BigTime's professional services automation (PSA) software helps track progress, budget, deadlines and deliverables, alerting service teams to potential issues so they can be proactively addressed.
Benefits of Mastering the Consulting Project Life Cycle
A successful project development life cycle is one in which the team has successfully achieved their goals and minimized their risks. But what is a successful project life cycle with minimized risks? And what are some of the benefits of this approach?
To start with, a successful project life cycle with minimized risks means that you've planned thoroughly and executed effectively. By making sure that every step in the process is planned out and accounted for, you have tried to ensure that no matter what happens along the way, there will be no surprises. This minimizes risk for everyone involved.
It also means that everyone on your team is clear about their responsibilities and their roles in the larger picture—which means they won't have any questions about what needs to be done next or who should do it. This allows them to feel confident that they're making progress toward accomplishing their goals, which leads to increased productivity and more projects delivered on time and on budget.
The transparent and clear communication brings benefits on the client side also, elevating customer satisfaction through heightened involvement in proactive decision-making. Satisfied customers lead to higher retention and referrals, which both fuel the bottom line.
Finally, more productivity through a more efficient process means reduced costs, improved reliability and performance, an edge on the competition, and more revenue to reinvest into research and development for new projects. And once a successful project life cycle is realized, the same methods can be repeated for future projects. Alternatively, if something does go wrong during the project life cycle, team members will know exactly what went wrong and how to fix it when it happens again instead of having an unknown issue arise without any prior knowledge about what caused it.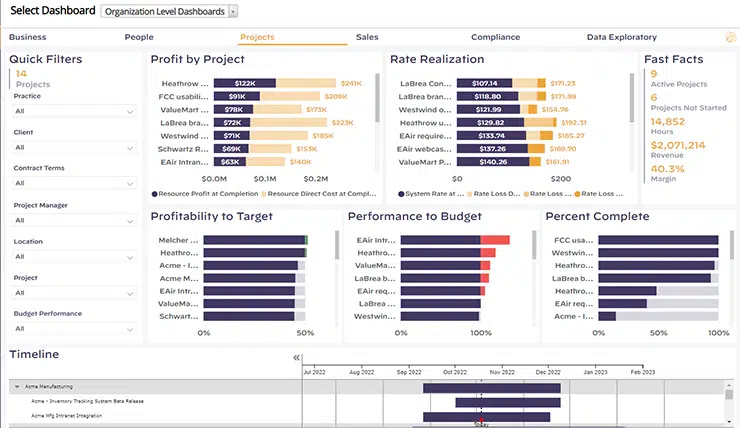 PSA software acts as a single source of truth for a services organization, providing quick access to relevant information and enhanced visibility throughout the project life cycle.
PSA Software: A Powerful Project Life Cycle Tool to Help Avoid Risks and Optimize Delivery
Professional services automation (PSA) software is a powerful tool that supports risk management in project life cycles by providing a central place to manage projects and associated tasks and resources. It allows quick access to relevant information about each of the five phases of the project life cycle that's easily accessible by all team members for enhanced visibility to accelerate and improve project outcomes. PSA software features provide:
Automation of project tasks and processes that help ensure that projects stay on track, which reduces the chance of errors or delays due to human error. For example, PSA can be used to create and distribute workflows based on specific criteria. This allows for a more structured and efficient approach to project management, while saving time and money.
Streamlined processes help eliminate bottlenecks by providing real-time information about what needs to be done and when. This makes it easier for project teams to coordinate their efforts so that they don't get in each other's way or fall behind schedule due to unexpected delays or issues that arise.
Increased visibility into projects that allow you to better understand progress against key deliverables and budget, what needs attention, and where resources need to be allocated so nothing falls through the cracks.
Result-tracking over time to see how well your projects are performing compared against previous ones and current objectives.
Advanced, real-time reporting that enables project teams to see exactly where they are in terms of achieving delivery goals at all times. For example, understanding project analytics in real-time such as estimate to complete allows managers to predict whether they'll be on, below or over budget at any point in the project's life cycle.
PSA software capabilities essentially help professional services organizations deliver on promises, meet deadlines, and keep clients happy. Implementing a tool like Projector by BigTime makes it easier to mitigate risks during the project life cycle by giving you more control over your team's work and keeping track of deadlines, milestones, and more.
Summary
What is project life cycle? The project life cycle definition is a process that defines all of the steps needed to complete a project. It can be thought of as a roadmap that shows you how to get from point A to point B for successful project deliveries that fuel project profitability and growth.
To master the project life cycle and support a growth strategy within a professional services organization, it's key to understand the different phases of project management life cycles, how they are interrelated, and what risks to anticipate in order to manage them successfully. Projects can be better managed once that understanding is established, which improves satisfaction of both customers and employees through more efficient project outcomes.
If you have questions or need help implementing or improving your project life cycles, contact our team to see how BigTime Software can streamline these processes and reduce risk factors so project teams can focus less on crisis mode, and more on delivering great work.

Frequently Asked Questions About What is Project Life Cycle
What is project life cycle?
The project life cycle definition refers to a concept used in services organizations that describes the process of developing and delivering projects on time and on budget.
What are the 5 phases of a project life cycle?
There are five phases in a project life cycle process that act as a framework to help project teams get their work done effectively and efficiently:
1. Initiation
2. Planning and budgeting
3. Executing
4. Monitoring and controlling
5. Closing
Why is project life cycle important?
The project management life cycle provides structure to the execution of project delivery. It helps project teams ensure both client deliverables and employee needs are met throughout the project management process.