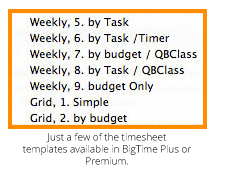 Guided by 10 years of user feedback, BigTime's created over 28 timesheet templates – the most offered by any timesheet software on the marketplace. From simple to complex, BigTime's timesheet templates can display just the basics – logged hours and labor codes – or offer a more detailed view of actual vs. estimated hours, a breakdown of budget items, and tasks entered with a timer. Managers can also pick and chose which features to display and create completely custom timesheets in a snap. Automatically applied to all staff members, BigTime's timesheet template setup couldn't be faster – and, universal settings ensure all employees and contractors adhere to a uniform set of timesheet guidelines. Staff couldn't be clearer on which information needs to be included, and they can complete and submit timesheets online, through BigTime's desktop widget, or on-the-go with our mobile app. As business needs change, BigTime makes it effortless for management to be responsive – toggle through timesheets without worrying about data integrity. All information remains securely stored and automatically populates into the newly selected template.

To learn more about each of the timesheet templates, please see our
knowledge base article
 or contact a
support specialist
, who can help you decide which timesheet template is right for you.