BigTime releases the Android version of it's popular Time Billing App.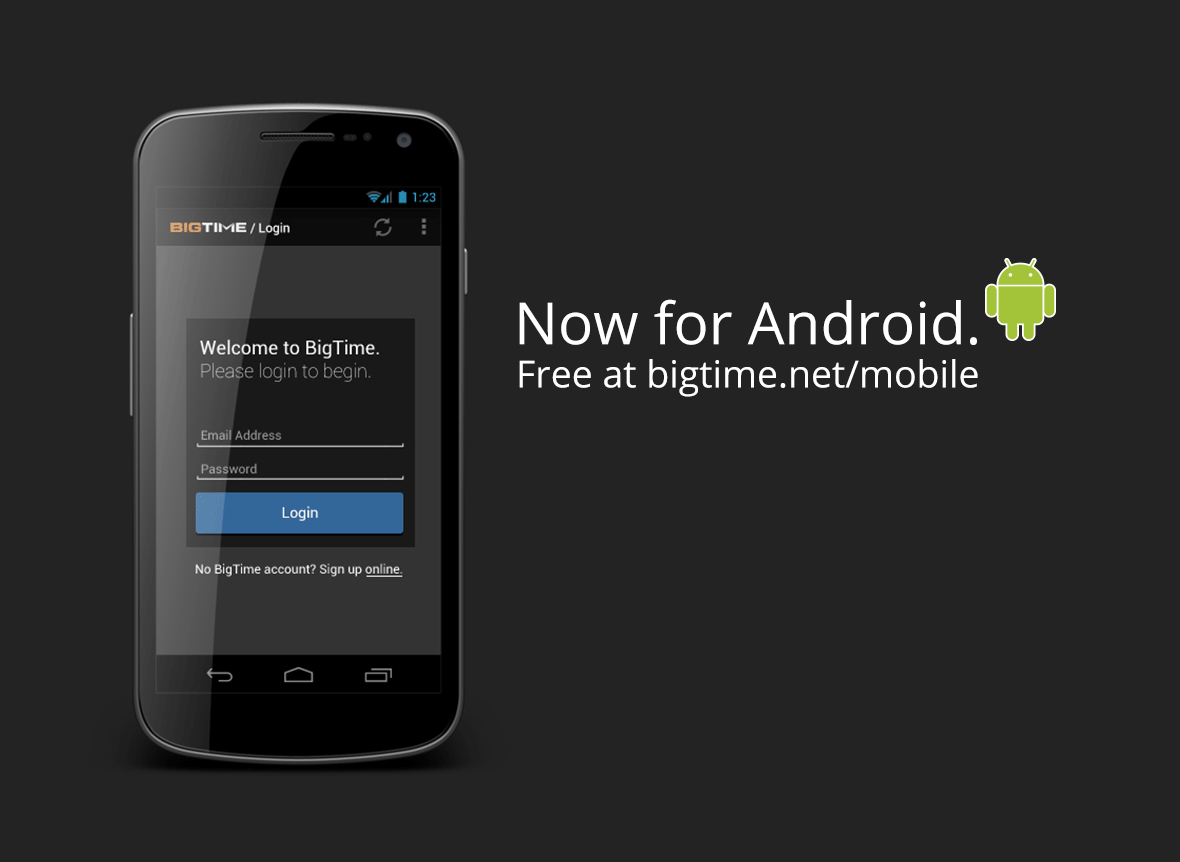 BigTime Software has adapted the pro-level features of its award-winning iPhone Timesheet App, BigTime Mobile, so that its Android user base can now enjoy the BigTime Timesheet App for Android.
BigTime Software Inc., a leading provider of pro-level online time and billing tools and a market leader in QuickBooks integration, developed its new mobile app to make it possible for small-and mid-sized professional services firms in the accounting, engineering, architecture and IT services industries to go beyond basic time and expense tracking to access higher-level, sophisticated practice management capabilities previously unavailable on a mobile device.
BigTime Mobile was recently named a "2014 Awesome Application" at the 10th Annual Accounting Solutions Conference by The Sleeter Group, a consulting group dedicated to finding the best accounting technology solutions to help small businesses work smarter, faster and more efficiently.
"BigTime has long been synonymous with pro-level time and billing capabilities among users in the professional services arena, so we wanted BigTime Mobile to represent the next generation of mobile apps for this more sophisticated user," says Saunders, founder of BigTime. "When you look at the mobile timesheet apps currently available, BigTime Mobile is light years ahead – offering users 'practice management lite' in the palm of their hands. It's the kind of convenient, yet powerful, tool professional services users want in an increasingly mobile world."
App available free to BigTime Express subscribers
The BigTime Mobile app for Android, available on the Google Play store, is free to current subscribers of BigTime's streamlined time management product, BigTime Express. Coming next is an Android app compatible with BigTime IQ, the company's highly anticipated, all-new premium product that will bring together advanced time and expense tracking, engagement management, and invoicing capabilities in a single package for the first time in the marketplace.
Highlights of BigTime Mobile for Android include:
Remote time tracking
Easily track time, online or offline.
User-friendly timesheet format, with one-tap timers.
Fully customizable, with daily/weekly timesheet views.
Submit timesheets right from the app.
Link time directly to QuickBooks.
Hassle-free expense entry
Intuitive mail-like expense entry interface.
Logs reimbursable expenses online or offline.
Upload Android photos of receipts.
Track costs by project, task, type and more.
Auto sync with web for instant backup.
Submit in app and link to QuickBooks.
Real-time team/project information
One-tap access to your clients and staff.
Call, text or email clients right from the app.
Offline access to customer contact info.
Syncs with your existing BigTime account.
Get the big picture on job/client data.
For more information about BigTime Mobile including demo videos, see bigtime.net/mobile-timesheet-app.