We're sorry to say that we're sunsetting the on-premise version of BigTime later this month — which means that we'll no longer be providing support for the product.
So we're now urging all of our on-premise users to make the switch to our hosted plan, and
 there are plenty of reasons why. Not the least of which is that if you make the switch by the end of March, you assure yourself full, ongoing support , plus you get 20% off your first year's subscription, a significant savings.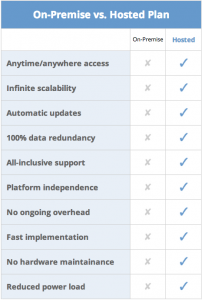 Have a look at all the great features of our hosted plan:
In addition to all-inclusive support, you'll enjoy anytime / anywhere access, infinite scalability, and no more worry about servers, maintenance or backups. Plus, if you need to add more users, or choose to upgrade to more robust plan, it's as easy as flicking a switch. More important, we make it a breeze to switch over. While we process the paperwork, we build you a hosted site, copy your existing database to it, then re-establish the connection to QuickBooks and test the system to be sure it's all copacetic. Usually takes less than an hour. If you're thinking about "joining the hosted solution revolution," have questions (or would just like to learn more), get in touch with one of our BigTime experts who will be your spirit guide through the changeover. They can be reached via email at
[email protected]
, or you're welcome to call them direct at (312) 346-4646.